About Me
Hello! My name is Hayley Clark you may have come to this page to learn a bit more about me, to keep from boring you, I will keep this short and sweet. (I prefer in-person or over-the-phone conversation, and I insist if you have anymore questions to please reach out to me!)
My dream since I was a young girl was to become a massage therapist. Over the past 14 years I have worked in the healthcare field with differently-abled adults, one of my other great passions.
I am a graduate from the Healing Arts Center in St. Louis, MO. In May of 2018, I accomplished my ever-expanding dream of becoming a licensed massage therapist (LMT).
License #: 2017018183
I just celebrated my 5 year business anniversary! How exciting! I am now offering a place for clients to come to me, this will be in my personal home studio in Alton. Check out my Home Studio tab, to get more information and book an apointment at my home studio. Currently all mobile outcalls will still be booked through mevia, call/ text/ email.
Ove the years I have acquired an amazing set of skills , not only from The Healing Arts Center, but bycontinually searching for more ways to learn and hone my craft. I take a huge interest in Manual Lymphatic Drainage and I have trained specifically in this field. In 2021 I received my MLD-C from the Academy of Lymphatic Studies and furthered my education into Advanced Manual Lymphatic Drainage for Post Plastic Surgery. I have been working with post cosmetic surgery patients for almost as long as I've been in business.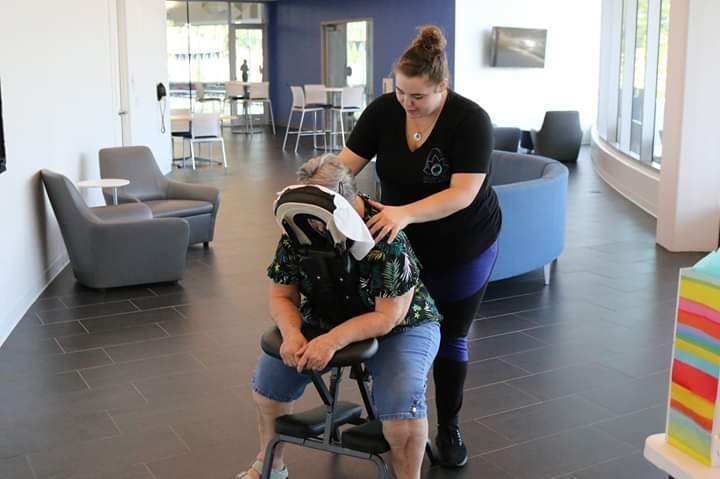 I've decided to take my business mobile because I was not interested in the regularity of working in a massage franchise setting. While franchises are great resources for people, I want to be able to have the real time interactions with the people I'm working with, I want to get to know my clients and create a treatment plan to help them reduce stress, pain, swelling, anxiety, tension, etc., while building a trusting and professional relationship. That is why I am willing to travel to your home, business, or almost any other location to provide you with an exceptional massage.
A short term goal for me is to build a strong clientele who not only enjoy massage, but feel that my massage is the best they've ever had! My mid-term goal is to have my own massage space within 5 years that is still convenient for my clients. Hayley now has a Home Studio! This small goal has been made possible by the help of friends and family to turn a plain space in my own home into a lovely home studio that I will now be accepting clients at on Sundays and Thursdays. My absolute long term goal is to create a research study on the effects of massage on the behavioral patterns of adults with developmental disabilities. I feel that this research would not only combine my two greatest passions: massage and health care for DD adults, but also pave the way for how we treat differently-abled adults in a more holistic approach!
If you have any questions or comments please feel free to contact me!